LA HISTORIA COMO RUMOR
PERFORMANCES
DE MOVIMIENTO MÚLTIPLE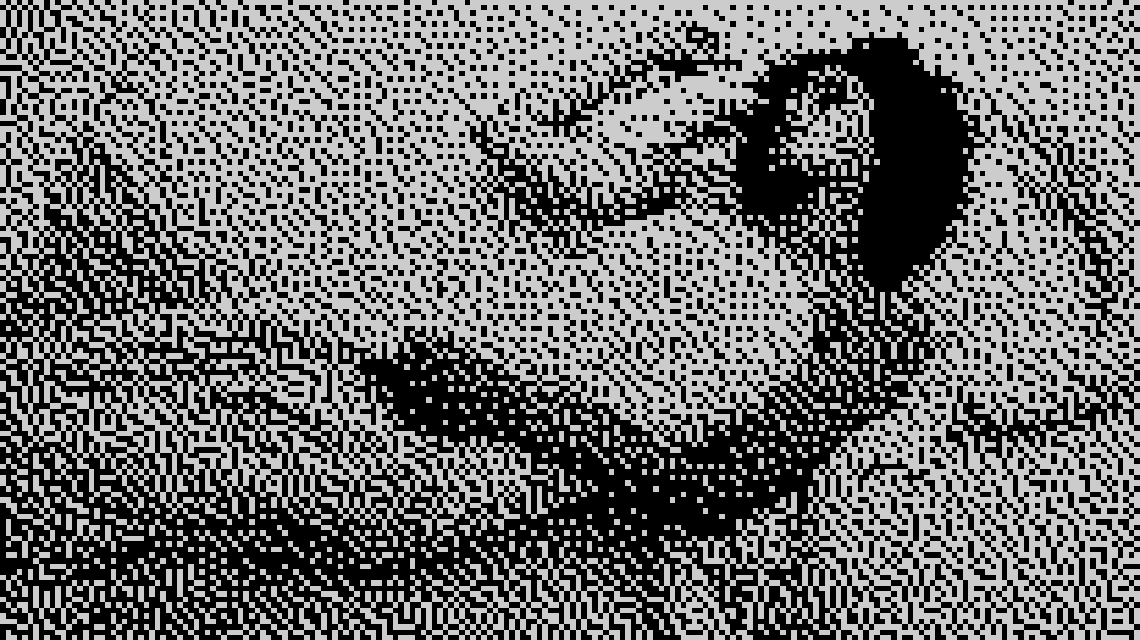 Artistic Director, Malba
In 1981, Mexican poet and visual artist Ulises Carrión drew a series of diagrams that traced the intersubjective and collective paths information follows in gossip, rumor, scandal, and slander.  Carrion's "Gossip Project," which draws on the social sciences, understands gossip as a formal model of communication used in opera and cinema. It is tied to the Proustian aspiration to assail reality by rearranging its most flagrantly spurious bits. Gossip and novel have, historically, gone hand in hand in readings of Marcel Proust, who—according to Edgardo Cozarinsky—calls on "the writer to heed that fragile crust of trifles only to smash it."
In Carrión's diagrams, rumor—unlike gossip—is depicted as multiple movement, chaotic progress, mutual influence, and revolving union. According to Carrión, information is less concentrated in rumor than in gossip, the object of his study. He depicts gossip as a chain structured in units that winds freely. Rumor, on the other hand, is the jade powder scattered delicately on the surface of a lake to fabricate a myth that may or may not end up constituting a fiction.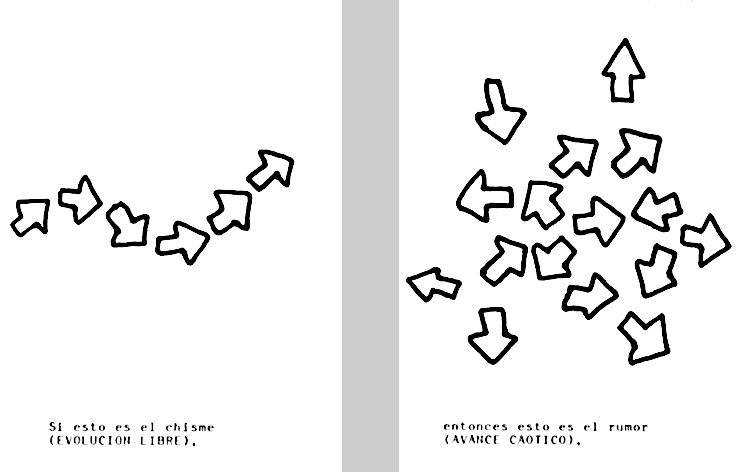 In 1981, at the same time Carrión was working on his Gossip Project, Juan Acha—a Peruvian critic who lived in Mexico—and curator Alberto Sierra were organizing the Primer Coloquio Latinoamericano sobre Arte No Objetual y Arte Urbano at the Museo de Arte Moderno in Medellín, Colombia. The event led to a region-wide debate on the actions and performatic modalities being proposed by artists in Argentina, Brazil, Colombia, Chile, Mexico, Peru, and Venezuela. What those artists and their proposals were doing, Acha argued, was breaking the logic that had reigned in art since the Renaissance. Acha was putting in historical context a participatory practice in art based on the readymade and allied with a strain of leftist politics embraced by the conceptualisms that developed in the United States and Europe starting with the countercultural movements of the nineteen-sixties. With the term "non-objectualism," Acha was attempting to pinpoint the singularities of those modalities in Latin America. Insofar as it addressed dematerialized artistic production, the debate at the Primer Coloquio in Medellín—in which Aracy Amaral, Néstor García Canclini, Rita Eder, Jorge Glusberg, Alfonso Castrillón, Maria Elena Ramos, Nelly Richard, Mirko Lauer, and many others participated—did not conceive of art in terms of contemplation of a work, but rather in terms of the artist's critical relationship with the audience and the system by which art is produced, distributed, and consumed.
Ulises Carrión, who lived in Amsterdam where, as a mature artist, he produced artists' books and engaged in art actions, and Juan Acha, whose long journey of exile finally ended in Mexico, were theorists avant la lettre. Both made use of a liquid model grounded in the body that looked to experimental theater, the social sciences, psychology, ethnography, and metaliterary experiments beyond any passing fad or micropolitics. All of that was tied to a change in aesthetic paradigm that, in the nineteen-eighties, crystallized into "worldwide cells with no definite center"—as Mirko Lauer would describe the non-objectualisms that spread through Latin America between the end of the Cold War and the invention of the internet. Since then, action art and performance—with their bumpy, incomplete, and often-oral history—have tended to be very sheer in texture, so slippery they escape any single narrative and are in chronic danger of disappearing.  Ephemeral, yet repeatable, events (part theater, part ritual, part experience, and part dance), the performances compiled here cross the line of the past as well as the trenches of stable identities to spread a rumor in the present among those who could not see them. Art actions and performances often generate a collective mythology that begins with the testimonies of their actual witnesses. That mythology contracts the disease of the archive and spreads over time in the rumor of experts; it may or may not end up constituting a fiction. In any case, its fickle and volatile material always throws the order of words and things into disarray.